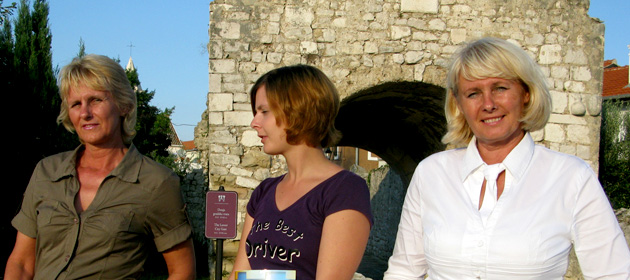 Marija Dejanović
Dear Guests,
Welcome to the most beautiful part of Croatia, Zadar region. Discover the cities of Zadar and Nin, which are among the oldest cities on the Mediterranean.
I´m Maria and I am certified tourist guide in Croatian and English language since 2005. I live in the 3000 years old royal city of Nin, but it will be my pleasure to show you the cultural heritage of another old and beautiful city, the city of Zadar, famous also for its contemporary architecture and modern instalations such as Monument to the Sun and the incredible Sea Organ.
Since I live in the city of Nin, I would like to introduce you to its wonderful and exciting history as the 1st croatian royal city, its extraordinary cultural heritage and cultural institution such as: Museum of aniques from Nin, Treasury of gold and silver from Nin and the Museum of Salt.
Besides cultural monuments, the city of Nin is famous for its beautiful landscape such as sandy lagoons, several miles long sandy beaches, haven for health tourism because of the curative mud used for various health purposes and tretmans of various diseases, or you can simply walk along the sandy beaches and enjoy the magnificent view of the Velebit mountain, and watch rare and indigenous birds such as Black-Winged Stilt.
Nin is also known for its gastronomy based on Dalmatian cuisine, as well as for its own unique specialty made of pork´s neck with special spices – šokol.
I´m excited for every opportunity that I get to introduce guests with this rare jewel of our region perfect for a blend of natural and cultural heritage.
If you´re already here or planning to come to Nin contact me because I will do my best to help you find the best service and arrangement so you can enjoy your stay.
I can also introduce you to other beautiful cities in our region, the cities of extremely rich and important history such as Zadar, Nin, Biograd, Pag and Zadar region.
Spoken languages

Croatian

English
Licence
Licenced guides for Zadar County