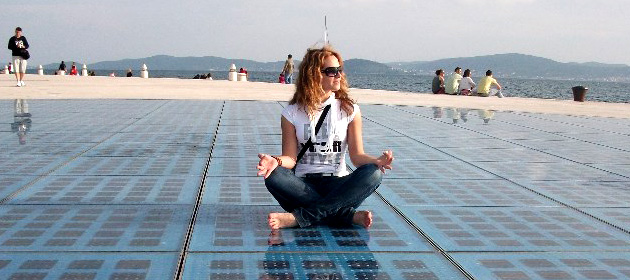 Martina Krišto Kotlar
Dear guests, welcome!!!
My name is Martina and I am delighted to share with you the story about Zadar 'before and today'.
I was born 31 years ago in this beautiful town, where I also attended high school and graduated with a degree in French and Russian languages and literatures.
I gained my first guiding experiences during my college days working as a tour guide in Croatia. Since 2007 I have been a licensed guide for the Zadar, Šibenik-Knin and Split-Dalmatia Counties.
This is your first visit to Zadar and you don't know what kind of tour to choose? Take a look at my SAISON MENU and I am sure you will find something that meets your tastes.
• The Town of Stones and Legends (a sightseeing tour of the old town center with an emphasis on cultural heritage and town legends)
• Zadar Interiors (Get to know the interiors of Zadar churches and the contents of city museums!)
• Zadar Exteriors (a classical city tour that also includes the sightseeing of urban parks and gardens)
• Coffee in Zadar (Learn about the old and new traditions of the local people by strolling around old residential quarters, buying fresh fruit and vegetables at a colorful town market and sipping coffee in a popular café.)
• Zadar – the City of the Sun (If you take a late afternoon or evening tour ending on the Zadar waterfront, you won't miss the sounds of the only Sea Organ in the world and just after the memorable sunset, you will find out why Zadar is a city of the Sun.)
If you have any special inquiries and want a tour A LA CARTE, I'll be happy to organize it for you.
As a guide, I really enjoy travelling, socializing, walking in nature and moving through time, but most of all I enjoy seeing the happy faces of my guests.
Spoken languages

Croatian

English

French

Russian
Licence
Licenced guide for Zadar, Šibenik-Knin, and Split-Dalmatian County